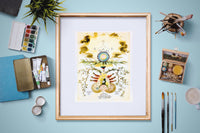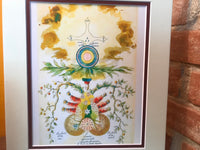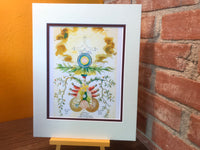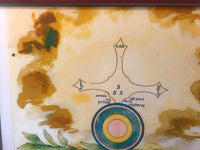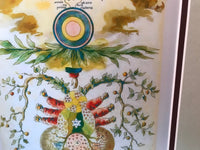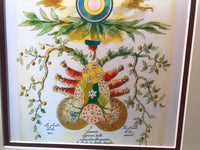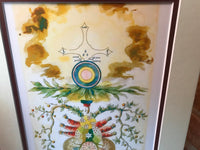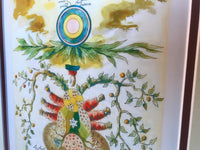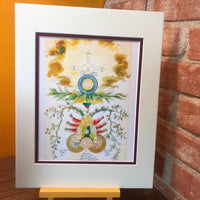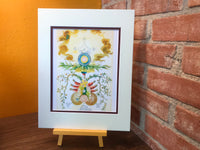 Parallel47North
Rosicrucian, Illuminated Manuscript, Esoteric Art, Sacred Geometry Art, Manly P Hall, Occult Book, Free Mason, Alchemy Print
The full-color alchemy art is from the Manly P. Hall collection, extracted from miscellaneous alchemy and Rosicrucian books he had procured during his life. Manly Palmer Hall (March 18, 1901 – August 29, 1990) was an author and mystic. He is most famous for his work The Secret Teachings of All Ages, which he published in 1928. Each design, according to Manly Hall's personal note, believe to be originally from early 1600's. The artwork is digitally enhanced, colored, embellished, and reproduced as a giclée print in our studio. Each design is carefully reproduced preserving the original elements of the artwork details with enhancements to highlight the meticulous work of the artist. The artwork can be a unique addition to your art collection. It will look great on your wall, your desk or any display table. It will also serve great as a one-of-a-kind gift to your friends or family members. It will surely delight the seekers of esoterica, Rosicrucian, Free Mason, and alchemy art. You can purchase this art as print-only, or unframed-double-matted or I can frame it for you. Please select your choice via [Print Sizes & Mat Options] and [Frame Options] in the options pull-down menu next to the product photographs.
------------------------------------- Print Sizes & Mat Options ----------------------------------▶︎ Unmatted Art Print Sizes (inches) * 8.5 x 11 (artwork size approx. 8 x10)
▶︎ Double Matting Color: * White over Gold * White over White * Cream over Cream * Burgundy over Gold * White over Burgundy Mat Backing Board - White ▶︎ Product (art matted outer) Size: * 11 x 14 (mat opening size: 7.5 x 9.5)
----------------------- Frame Options -----------------------
▶︎ Color: Black or RoseGold or Gold
▶︎ Material: Metal Aluminum (It has a matte satin finish)
▶︎ The frame has a backing board with swivel closure tabs and two installed wall hanging hooks
▶︎ Frame (glassed area opening) Size: * 11 x 14 (Frame Outer Dimensions: 12 x 15, Thickness: 1/2 inches) An easel holding the art frame in the display pictures is for demonstration purposes only. If you have questions with any of the information listed here, please contact me. Thank you for viewing and considering this artwork.
If you like this art, I will invite you to check out other art in my shop section [Manly P Hall Collection]
Note to the artbook owners: If you are the owner of our artbook [Manly P Hall], and would like any artwork from the book reproduced as a fine art quality print, please contact me with the plate number. The link to the artbook: https://parallel47north.com/collections/manly-p-hall-inspirations/products/esoteric-art-illuminated-manuscript-free-mason-occult-book-alchemy-book-sacred-geometry-art-rosicrucian-book