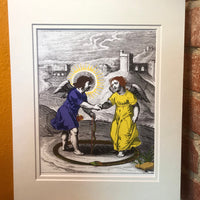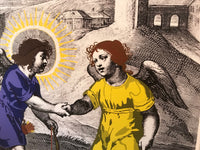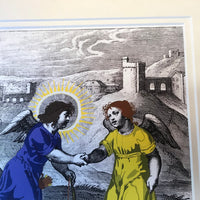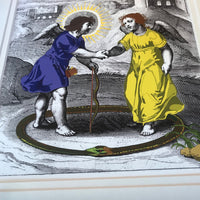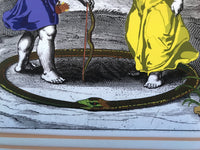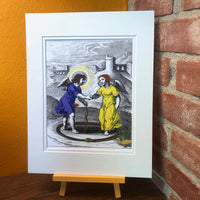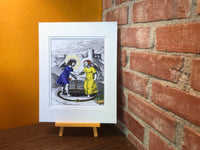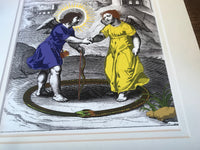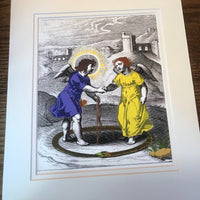 Parallel47North
Charming Angel Art Print, Angel Magic, Double Matted 11x14 to 8x10 Artwork, Alchemy Print, Rosicrucian, Esoteric Art, Sacred Geometry Art, Free Mason
These charming angels are uniquely created from the vintage art pieces. The emblem of Otto van Veen was extracted from the book published in 1615. The artwork is digitally enhanced, colored, embellished, and reproduced as a giclee print in our studio. Each design is carefully reproduced preserving the original elements of the artwork details with enhancements to highlight the meticulous work of the artist. Please note it is NOT an original print. The artwork is a unique addition to your art collection. It will look great on your wall, your desk, or any display table. It will also serve great as a one-of-a-kind gift to your friends or family member.
▶︎ Mat Outer Size: 11x14 (It will fit standard art frame size 11x14) with a 7.5x9.5 opening.

▶︎ Mat Color: Cream over Cream (The product photographs may appear white, but it has more a cream tone.)
▶︎ Backing Board Color: White
▶︎ Artwork Size: the actual artwork is approx. 7 X 9 inches to fit the mat opening.
▶︎ Fine Art Paper
* Art Paper Size: 8.5 x 11 inches, 310 gsm weight
* 100-Years Certified Archival by Accredited 3rd Party
If you like this art, please check out other angels art in my shop collection [Angels by Otto van Veen]:

Note to the artbook owners: If you are the owner of our artbook [Emblems: Jean Jacque Boissard and Otto van Veen - Book First], and would like any grayscale artwork from the book reproduced as an art print, please contact me with the artwork ID number at the back of artwork page. 
------------------------------------------------------
CARE FOR ARTWORK AND PRINTS
------------------------------------------------------
To ensure the longevity of the artwork and print/s, I would suggest; all prints, whether giclee, antique or vintage, protect from direct sunlight, high heat, and moisture. Please use a mat or spacers when framing.
✦ ✦ ✦ ✦ ✦ Thank you for visiting my shop and taking the time to read all of this info. If you have any questions, I didn't cover, please message me. ✦ ✦ ✦ ✦ ✦
© 2020 Parallel 47 North. All Rights Reserved.