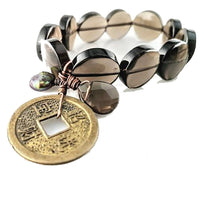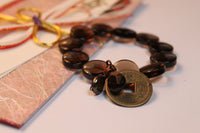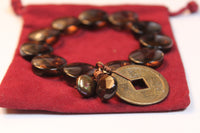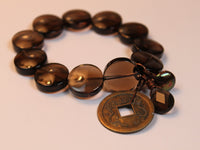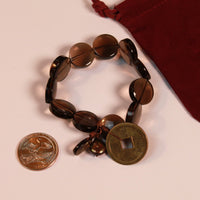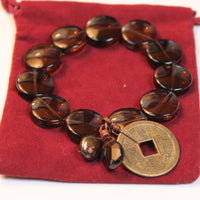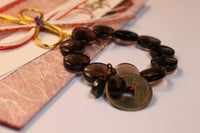 Parallel47North
Smoky Quartz Jewelry for Good Luck Gifts, Grounding Bracelet, Occult Jewelry, Healing Crystal Jewelry, Good Luck Bracelet
Metaphysical Smoky Quartz with Oriental Coin Bracelet - gift-ready! It is meticulously handcrafted with energy enhancer and healing crystals. Wear it daily to work or at home to ground yourself, balance and strengthen your body's natural healing power! The translucent clear brown Smoky quartz is "coin" shaped with stretchable wire for ease of wearing it on and off. This stone is purported to the ground and help bring calm and relieve depression and stress. It is accented with a vintage oriental coin to attract fortune and a good vibe. The vintage coin is a real item used in 1500s, and each coin has a slightly different design on it. Due to its age, please expect it with some wear and minor dents. The teardrop-shaped smoky quartz and copper beads enhance the spiritual energy it carries. Smoky quartz has been said to help remove toxins from the body and aid the adrenal gland in proper functioning. It is also said to help with problems of the lower torso such as issues with the kidneys, abdomen, pancreas, reproductive organs, and with menstrual cramps and fertility issues. It comes with a burgundy color velvet pouch and an oriental themed gift package. Please note this item is hand made, so each bracelet shape, color, size, oriental coin slightly differ. The gift packaging design is all similar but not identical to the picture shown; I will choose one for you.
You may also like to check out a similar metaphysical bracelet in our [Crystal Jewelry] collection.
✦ ✦ ✦ ✦ ✦ Thank you for visiting my shop and taking the time to read all of this info. If you have any questions, I didn't cover, please message me. ✦ ✦ ✦ ✦ ✦

© 2019 Parallel 47 North. All Rights Reserved.