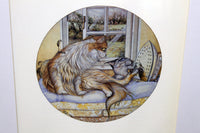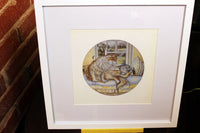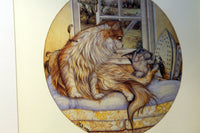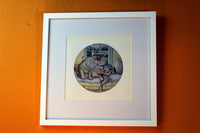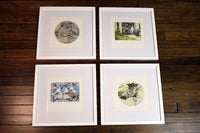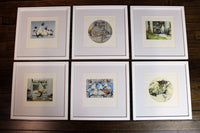 Parallel47North
Funny Cat Art by by Zoe Stokes 12 x 12 Framed Matted to 8x 8 Artwork 1982 1st Edition Book Plate - Collector Edition
The artwork is an original 1982 Zoe Stokes 1st Book Plate matted with an archival art white matte. It is an original vintage offset lithographic print, signed and dated in the plate by Cornish cat artist Zoe Stokes. This edition is off-set printed on Japanese made semi-gross paper.
It comes professionally matted in a 12 x 12 white wooden art frame with real glass. The framed artwork will look great on your wall, bedroom, baby's room, your desk, or any display table. We have a collection of funny cats; fat cats, thin cats, black cats or tabby cats, playful cats, hostile cats, mischievous or good cats....here is a richly colored, humorous, and touching treasury of our feline population!
You can have one or many to decorate your wall as you wish. The charm of the artist Zoe's witty, finely detailed watercolors, and the originality of her style and ideas will delight all and bring long-lasting pleasure to cat lovers everywhere! The frame has a wall hanging hook at the back. An easel holding the art frame in the display pictures is for demonstration purposes only. 
The framed cat art is ready to decorate your home, office, or boutique!
Frame color - White
Frame material - Wood
Matte color - White
Product (art frame outer) size: 12.75 x 12.75 inches
Frame inner (glass area) size: 12 x 12 inches
Frame depth: 0.5 inches
Matte opening size: 7.5 x 7.5 inches
Artwork size: 7.5 X 7.5 inches.
------------------------------------------------------
CARE FOR ARTWORK AND PRINTS
------------------------------------------------------
To ensure the longevity of the artwork and print/s, I would suggest; all prints, whether giclee, antique or vintage, protect from direct sunlight, high heat, and moisture. Please use a mat or spacers when framing.
✦ ✦ ✦ ✦ ✦ Thank you for visiting my shop and taking the time to read all of this info. If you have any questions, I didn't cover, please message me. ✦ ✦ ✦ ✦ ✦
© 2020 Parallel 47 North. All Rights Reserved.